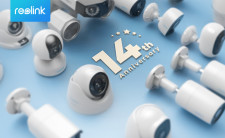 WILMINGTON, Del., June 21, 2023 (Newswire.com) - Reolink, a leading innovator in home security, celebrates 14 years in business. Introducing revolutionary security products for homeowners and small businesses, Reolink unveils its latest innovations: 4K battery camera series, ColorX series, and more.
Join Reolink's anniversary celebration with customer rewards, AMA activity, and giveaways on official social media. Don't miss the epic sales event June 26-28, offering juicy discounts on best-selling security devices.
Reolink's Four State-of-the-Art Innovations in 2023
In 2023, Reolink continues to impress the market with four new innovative releases.
4K Battery Camera Series: Unmatched Ultra Clarity for Battery-Powered Security
Users can experience Reolink's 4K Battery Camera Series and immerse themselves in stunning ultra HD resolution. Perfecting lens and sensor technology, Reolink delivers unparalleled image quality that captures every tiny detail. Discover the future of battery cameras with Reolink.
ColorX Series: True Color Night Vision Technology
ColorX Series innovated by Reolink provides true color night vision even in extremely low light conditions. With a large F1.0 aperture and advanced sensor, these cameras produce high-fidelity color imagery. Experience true-to-life colors in the darkest environments without the need for additional lighting.
Auto-Tracking: Intelligent Detection and Tracking
Reolink's security cameras with auto-tracking feature automatically detect and track specific targets within the monitoring area. Say goodbye to losing sight of intruders as the cameras continuously lock on and record their movements. Enjoy complete visibility and peace of mind.
16X Optical Zoom: Detailed View from a Distance
Reolink introduces the RLC-823A 16X, its first security camera with 16X optical zoom. By capturing distant objects with precision and clarity without compromising image quality, the camera empowers users to see fine details such as clothing features and license plates, even from afar.
Reolink's 14-Year Journey With Its Loyal Reolinkers
Step by step, Reolink has grown from the startup launching the 1080p Argus camera to the innovator of the advanced 4K battery camera series. As a token of gratitude to the backers of the first Argus series, Reolink will run the Thank You, Argus Backer campaign, giving away 50 new 4K Argus 3 Ultra cameras and 50 smart garden floodlights as unique thank-you gifts.
Starting June 19, Reolink users can join various anniversary celebration activities, including giveaways and AMA sessions, on Reolink's social media. Don't miss the anniversary epic sale with over 100 smart security products available at up to 40% discounts.
For more information about Reolink's 14th anniversary and innovative security products, please visit Reolink's official website.
About Reolink
Reolink, a global innovator in the smart home field, is dedicated to delivering convenient and reliable security solutions for homes and businesses. Reolink aims to deliver a seamless security experience for customers with its comprehensive product lineup. Reolink provides video surveillance and a scene of protection for millions of homes, families, and stores.
Contact
Reolink PR Team
Email: pr@reolink.com
Address: 251 Little Falls Drive, Wilmington, New Castle County, Delaware 19808
Source: Reolink
Share: