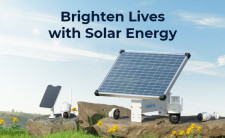 Reolink Donates $10,000 to SVP to Install Solar Energy Facilities in Two Rural Schools
WILMINGTON, Del., April 19, 2023 (Newswire.com) - Reolink, a leading provider of innovative security and smart home solutions, highlights its solar cameras in celebration of Earth Day. Also, Reolink announces its partnership with the Solar Village Project, a nonprofit organization committed to providing renewable energy solutions to rural communities.
Embracing Sustainability with Reolink Solar Cameras
By harnessing the sun's energy, Reolink solar-powered cameras offer a practical way for individuals to contribute to a greener planet while keeping their homes and businesses secure. These eco-friendly security solutions play a vital role in reducing carbon emissions and combating climate change.
In 2022, Reolink sold over 1 million battery/solar cameras, which contributed to a reduction of 300,000kg of CO2 emissions. This achievement highlights the potential of Reolink's battery/solar cameras to provide reliable security solutions while actively reducing greenhouse gas emissions and promoting a greener future.
Furthermore, Reolink has continuously evolved its solar camera technology to better utilize solar power and its latest solar camera TrackMix LTE Plus marks a major advance. This cutting-edge dual-lens 4G camera is equipped with a large-capacity battery and a highly efficient solar panel for 24/7 operation. Also, it has a built-in heater to warm up the battery when the temperature is low.
Being independent of electricity, TrackMix LTE Plus still offers advanced features, such as two lenses for intelligent motion tracking, remote monitoring, 2K high-definition video recording, etc.
A Meaningful Collaboration with SVP for a Sustainable Future
In addition to producing eco-friendly solar cameras, Reolink hopes more people can benefit from solar energy and reduce dependence on traditional electricity.
Reolink has committed to donating $10,000 to Solar Village Project (SVP), which will fund solar energy facilities for two schools in communities without stable access to electricity. By providing access to clean, renewable energy, Reolink and SVP hope to create a better learning environment for students and reduce educational inequality.
The collaboration with SVP showcases Reolink's dedication to making a positive impact on the environment and supporting a brighter, more sustainable future for all. Together, Reolink and SVP aim to empower communities through access to clean, renewable solar energy, demonstrating the power of innovative technology in addressing global environmental challenges.
For more information, visit Reolink's Earth Day campaign, or follow Reolink's social media to stay tuned.
About Reolink
Reolink, a global innovator in the smart home field, is dedicated to delivering convenient and reliable security solutions for homes and businesses. Reolink aims to deliver a seamless security experience for customers with its comprehensive product lineup.
Contact
Reolink PR Team
Email: pr@reolink.com
Address: 251 Little Falls Drive, Wilmington, New Castle County, Delaware 19808
About Solar Village Project
Solar Village Project is a nonprofit organization focused on combating climate change and energy poverty in developing rural communities. SVP provides solar power access to improve education and the quality of life for those in impoverished areas.
Source: Reolink
Share: