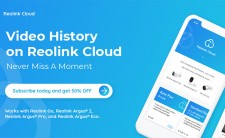 Hong Kong, March 20, 2019 (Newswire.com) - Reolink today is excited to announce its cloud subscription plans, the release versions, are finally available!
Reolink Cloud provides 4 subscription plans, including Basic Plan, Standard Plan, Premier Plan & Business Plan, and supports US, Canada, Australia & New Zealand.
"After a joint work of our team and customers, our cloud release version is finally available for subscription! To celebrate such a milestone, we provide 50% off for our customers to purchase the cloud storage", said Sophie, Reolink product manager.
Bonus: 100 subscribers will be chosen randomly (ends on April 1) and get full refund of cloud subscription fees.
Customers can subscribe Reolink Cloud plans here: https://cloud.reolink.com/.
Reolink launches flexible cloud subscription plans to enable customers to enjoy an easy and secure video recording method. Please check the details of each cloud plan in the table below.​
| | | | | |
| --- | --- | --- | --- | --- |
| Reolink Cloud Plan | Current Pricing | Camera(s) Supported | Cloud Storage Capacity | Days of Cloud Recording |
| Basic Plan | Free | 1 | 1 GB | 7 |
| Standard Plan | $2.49/Month & $24.9/Year | 5 | 10 GB | 30 |
| Premier Plan | $4.99/Month & $49.5/Year | 10 | 50 GB | 30 |
| Business Plan | $7.49/Month & $74.5/Year | 30 | 100 GB | 60 |
Reolink Cloud Compatibility and Safety
Reolink Cloud now supports Reolink Go, Argus 2, Argus Pro & Argus Eco. More products will be supported soon. Customers can follow Reolink Social Media to get the latest update.
Reolink uses secure encryption to protect users' data and keep customers' information confidential.
If users have any questions about Reolink Cloud, please check the cloud FAQs here>>
About Reolink
Reolink, a global innovator in smart home field, is always dedicated to delivering the easiest and most reliable security solutions for home & business. Reolink's mission is to make security a seamless experience for customers with its groundbreaking security products. Reolink products are available and sold worldwide, providing video surveillance and protection for millions of homes and families.
For more information about Reolink and its products, please visit https://reolink.com, or visit the Reolink US Amazon store: https://amzn.to/2y93Ukj.
Contact
Elvia/PR manager
Email: pr@reolink.com
Address: RM.517, New City Center, 2 Lei Yue Mun Road, Kwun Tong, Kowloon, Hong Kong
Reolink Digital Technology Co., Ltd.
Source: Reolink Digital Technology Co., Ltd.
Share: