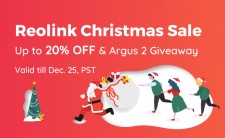 HONG KONG, December 17, 2018 (Newswire.com) - Reolink announces its best Christmas sales 2018 starting now (valid till Dec. 25, PST). Customers can get up to 20 percent off on Reolink's most popular battery powered security cameras, top-notch PoE/Wi-Fi security cameras, and all-in-one security camera systems.
In order to celebrate Christmas with customers, Reolink also launched a Reolink Argus® 2 Giveaway campaign so that Reolink big fans can win a free gift during this happy holiday.
Check Reolink Christmas Deals 2018 & Giveaway here: https://reolink.com/christmas-sale-2018.
Christmas is the last festival in 2018 and it's also the flag of the upcoming New Year. In this unforgettable and meaningful festival, Reolink always launches its annual deals so that customers can buy excellent security cameras and smart tech gifts with the best prices for a safe and peaceful Christmas.
Reolink Last Call in 2018: Smart Home Camera Christmas Sales — Exceptional & Cool Tech Gifts
In 2018, the most eye-catching & popular security cameras among Reolink product lines are the innovative and sleek Reolink Argus® 2 and Pro battery powered security cameras.
The Reolink Argus family are Reolink's groundbreaking masterpieces, and they hold a place in the smart home security camera filed. The versatility and stylish design of the Argus family win customers' hearts. That's the reason why many people recommend these products to their family and friends.
Now customers can buy the compact Reolink Argus® 2 with only $103.99 and Argus Pro with $79.99, both at 20 percent off.
For non-stop power supply, customers can add the Solar Panel ($23.99 at 20 percent off) to Reolink wire-free battery security cameras without worrying about the power drain.
Before the launch of Reolink Argus series smart home security cameras, the top 1 seller is Reolink RLC-410 PoE IP camera.
This PoE IP camera is rated by Michael Ansaldo, the editor of TechHive, as "Excellent Performance & Affordable Price.
And customers now can buy this feature-rich RLC-410 PoE IP camera at a starting price $50.99 with 15 percent off during the Christmas deals.
Check More About Reolink Biggest Christmas Sales 2018
· RLC-410W dual-band Wi-Fi IP camera with audio recording and SD card slot for $55.99 (20 percent off)
· RLC-420 versatile PoE dome IP camera with audio recording for a starting price $50.99 (15 percent off)
· Reolink all-in-one security camera systems with continuous protection (buy now at 15 percent off)
About Reolink
Reolink, a global innovator in home and business security products, is always dedicated to delivering the easiest and most reliable security solutions for home and business. Reolink's mission is to make security a seamless experience for customers with its groundbreaking security products. Reolink products are available and sold worldwide, providing video surveillance and protection for millions of homes and families.
For more information about Reolink and its products, please visit https://reolink.com or visit the Reolink U.S. Amazon store: https://amzn.to/2y93Ukj.
Media Contact
Reolink Digital Technology Co. Ltd.
Elvia/PR manager
Email: pr@reolink.com
Address: RM.517, New City Center, 2 Lei Yue Mun Road, Kwun Tong, Kowloon, Hong Kong
Source: Reolink Digital Technology Co., Ltd.
Share: