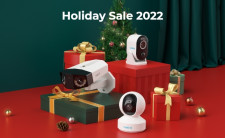 Grab Reolink's limited-time deals on the best security cameras & systems.
WILMINGTON, Del., December 20, 2022 (Newswire.com) - Reolink, known as a leading innovator in smart home security products, begins its Holiday Sale 2022 now through Dec. 25. This is the last time in 2022 for people to save big while choosing a holiday gift of security for their loved ones.
From 4G battery/solar-powered cameras and auto-tracking cameras to all-in-one home security systems, Reolink offers up to 25% discounts on its hot products.
Now let's sneak a look at some of the best security camera and system offers from Reolink Holiday Sale 2022.
Reolink Go PT Plus - 2K Smart 4G Cellular PT Camera (15% Off)
Running on a 4G cellular network and powered by a rechargeable battery or solar panel, this wire-free camera is ideal to monitor places without power outlets or a WiFi network. The 2K HD shows crystal-clear images and the pan-tilt function allows people to have a nearly 360° view.
E1 Zoom AI - Indoor 5MP PTZ Camera ($79.19 with 10% Off)
This WiFi camera comes with a compact design and rich features, making it popular among homeowners. 5MP videos show what's happening clearly. The AI version of this camera can track moving people and pet dogs automatically.
TrackMix PoE - 4K Dual-Lens Auto-Tracking Camera (15% off through Dec. 22)
TrackMix PoE has a wide-angle lens and a telephoto lens to offer both a full view and a close-up image simultaneously. It's made to focus and track important things like a moving person or vehicle.
RLC-822A - Smart 4K UHD PoE Camera (15% off through Dec. 22)
Easy to set up and control. RLC-822A can be installed with one single network cable. This smart camera has intelligent person/vehicle detection to reduce false alarms greatly. 18pcs LEDs can show clear images within up to 100ft.
RLC-842A - Vandal-Proof Camera with 5X Zoom (15% off through Dec. 23)
This solid 4K UHD PoE security camera gives people excellent images and videos. 5X optical zoom allows users to zoom in for astonishing details and zoom out for a broader perspective.
RLK8-800B4 - 8-Channel 4K Security Kit ($60 off)
This all-in-one system comes with four 4K security cameras and an 8-channel NVR for local storage, being a great choice for business owners. They can have this security kit work 24/7 to protect their homes.
For more great deals on security cameras and systems, check out Reolink Holiday Sale 2022 and save now.
About Reolink
Reolink, a global innovator in the smart home field, is always dedicated to delivering reliable and user-friendly security solutions for homes and businesses. Reolink's mission is to make security a seamless customer experience with its solid security products. Reolink products are available and sold worldwide, providing video surveillance and protection for millions of homes and families.
Contact
Reolink PR Team
Email: pr@reolink.com
Address: 251 Little Falls Drive, Wilmington, New Castle County, Delaware 19808
Source: Reolink
Share: