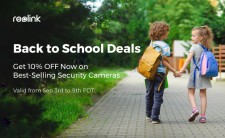 HONG KONG, September 3, 2018 (Newswire.com) - Reolink today announces its back-to-school sales 2018 starting now. Customers can buy Reolink best-selling smart home security cameras during Sep. 3-9 PDT with 10 percent off.
Back-to-school season is the busiest time for students, and it's also the most favorite time for thieves and burglars.
In order to provide a safer campus and home for kids, Reolink launches these back-to-school deals, aiming at providing customers with its star products at best prices.
Check more details about Reolink back-to-school sales here: https://reolink.com/back-to-school-deals.
Best Reolink Smart Cameras Overview for Back-to-School Security Needs
Customers can buy Reolink's best-selling battery-powered security cameras and most popular PoE & WiFi security cameras for a safer home.
• Reolink Argus® 2 ($116.99) & Argus Pro ($89.99)— rechargeable battery powered security cameras with 1080p Full HD and 33ft excellent night vision, enable customers to get wire-free smart home security solutions for a worry-free back-to-school season.
Also, users can add the Reolink Solar Panel ($26.99 with 10% off) to the above wire-free security cameras to get a continuous power supply.
• Reolink RLC-410 & RLC-420 PoE IP cameras (both available at $62.99) — the most reliable and easiest wired security camera type, offer users another simple home security solution to create a safer and more connected home for their beloved children.
• Reolink RLC-410W 5MP WiFi security camera, available at $71.99, provides a Super HD wireless monitoring solution for customers who want a plugged-in WiFi home IP camera.
Customers can choose the above versatile home security cameras to get a hassle-free back-to-school season and all-around home security.
About Reolink
Reolink, a global innovator in home & business security products, is always dedicated to delivering the easiest and most reliable security solutions for home & business. Reolink's mission is to make security a seamless experience for customers with its groundbreaking security products. Reolink products are available and sold worldwide, providing video surveillance and protection for millions of homes and families.
For more information about Reolink and its products, please visit https://reolink.com, or visit the Reolink US Amazon store: https://amzn.to/2y93Ukj.
Contact
Elvia/PR manager
Email: pr@reolink.com
Address: RM.517, New City Center, 2 Lei Yue Mun Road, Kwun Tong, Kowloon, Hong Kong
Reolink Digital Technology Co., Ltd.
Source: Reolink Digital Technology Co., Ltd.
Share: