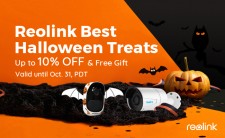 HONG KONG, October 29, 2018 (Newswire.com) - Reolink today launches its annual Halloween sales 2018 (ends on Oct. 31, 2018, PDT), with up to 10 percent off on best-selling products, and prepares free Halloween-themed gift for customers.
Check more details on Reolink best Halloween treats here: https://reolink.com/holiday-promotions.
Reolink Best Halloween Deals 2018 & Free Gift
Reolink offers up to 10 percent off on its star products, like top seller Reolink Argus® 2 ($123.49 at 5 percent off), and best-selling PoE camera RLC-410 ($62.99 at 10 percent off), so that customers can enjoy the best deals to buy top-notch smart home cameras for a fabulous and safe Halloween.
Reolink Argus® 2, with its exceptional quality and simplicity, is rated by PCMag as one of the best home security cameras for 2018. A lot of Reolink fans are very satisfied with the versatility and flexibility of Reolink Argus® 2. So Reolink keeps launching the best deal for this battery powered security camera so that more customers can get this camera for the most favorable price.
To celebrate Halloween, Reolink prepares one free gift for customers: the Halloween-themed skin full suit (limited quantity on a first-come-first-served basis) — per order of Reolink Argus® 2 or Argus Pro.
Reolink RLC-410 PoE security camera, as the best seller among Reolink PoE IP cameras, plays an indispensable role in securing customers' home and business, so that customers can enjoy a secure and worry-free Halloween.
Reolink also provides other Halloween treats for its fans, including Reolink Argus® Pro rechargeable battery powered camera ($94.99 at 5 percent off), Reolink Solar Panel ($26.99 at 10 percent off), RLC-420 PoE dome camera ($62.99 at 10 percent off), and RLC-410W dual-band WiFi security camera ($71.99 at 10 percent off).
Share #ReolinkCaptures Now to Win the Coupon & Argus 2
Besides the best treats during Halloween season, Reolink also launches #ReolinkCaptures activity (valid till Dec. 23, 2018, PDT) so that customers can share their unforgettable moments captured by Reolink cameras.
Customers now can get 10 percent off for future orders by sharing their Reolink-captured videos, and have a chance to win a free Reolink Argus® 2.
About Reolink
Reolink, a global innovator in home & business security products, is always dedicated to delivering the easiest and most reliable security solutions for home & business. Reolink's mission is to make security a seamless experience for customers with its groundbreaking security products. Reolink products are available and sold worldwide, providing video surveillance and protection for millions of homes and families.
For more information about Reolink and its products, please visit https://reolink.com, or visit the Reolink U.S. Amazon store: https://amzn.to/2y93Ukj.
Elvia/PR manager
Email: pr@reolink.com
Address: RM.517, New City Center, 2 Lei Yue Mun Road, Kwun Tong, Kowloon, Hong Kong
Source: Reolink Digital Technology Co., Ltd.
Share: