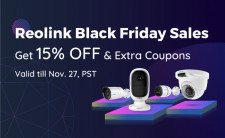 HONG KONG, November 22, 2018 (Newswire.com) - Reolink announces its Black Friday and Cyber Monday deals 2018 starting now (ends on Nov. 27, PST). Customers can not only save 15 percent on the best battery-powered cameras and PoE/WiFi IP cameras but also get honest-to-goodness coupons as a plus.
Check Reolink Black Friday sales 2018 here: https://reolink.com/holiday-promotions/.
Reolink Black Friday Sales 2018: 15 Percent Off on Its Star Products
As the Black Friday shopping festival is the craziest sale of the year, Reolink also launches its best deals during this biggest shopping period so that customers can save big on buying top-notch smart security cameras and systems now.
Reolink Top Seller: Reolink Argus® Series Wire-Free Battery-Powered Security Cameras (a 15 percent discount)
Reolink's star products, the Argus series, Reolink Argus® 2 (available at $110.49 only) and Argus Pro (available at $84.99 only), constantly receive high praise from both the customers and top-tier media's endorsements, such as Tech Advisor (top U.K. tech website), PCMag (top-tier U.S. tech website) and HD Blog.it (top Italy tech website) and other top-tier websites globally, as one of their favorite wire-free battery-powered security cameras for the outstanding flexibility and portability.
For customers who are seeking complete wireless indoor and outdoor security cameras, the versatile Argus battery-powered security cameras are the best home and business security options with 1080p sharp images, starlight/infrared night vision, two-way audio and smart motion alerts.
Customers can add Reolink Solar Panel to run the Argus security cameras with non-stop power supply.
Reolink's Most Innovative Product 2018: Reolink Go 4G LTE Security Camera (save up to $74)
As one of the only few 3G/4G LTE wire-free security camera options in the market, Reolink Go (available at $212.49 only) operates exclusively on cellular networks and rechargeable battery — no WiFi and no power sources needed.
Customers can take Reolink Go — the 4G LTE mobile security camera with great quality and affordable price — to any desired places: camping, hunting and construction sites, etc.
Reolink had launched a crowdfunding for Reolink Go on Indiegogo, which was a huge success. It took only two days to surpass the original goal and the funding closed with 480 percent of the goal.
See More Top Deals on Reolink's PoE/WiFi Security Cameras & Systems (save 15 percent)
· Reolink RLC-410 5MP/4MP bullet PoE IP camera — The best home and business surveillance option (start from $50.99)
· Reolink RLC-410W 4MP dual-band WiFi IP camera — The keen security solution for customers' property (available at only $59.49)
· Reolink RLC-420 5MP/4MP dome PoE IP Camera — The ideal security pick for home and business (start from $50.99)
· Reolink RLK8-410B4 & RLK16-410B8 all-in-one security camera system — The most reliable surveillance systems for 24/7 monitoring (start from $390.99)
Join the Celebration Now and Win Extra Coupons
Besides the attractive Black Friday deals, Reolink also gives customers special coupons as gifts for any orders worth over $300, so that customers can use these coupons for future orders and enjoy free shipping.
Customers are also invited to take part in the #ReolinkCaptures activity (valid until Dec. 23, PST). By sharing their unforgettable moments captured by Reolink cameras, customers will get 10 percent off for future orders and even have a chance to win a free Reolink Argus® 2.
About Reolink
Reolink, a global innovator in home and business security products, is always dedicated to delivering the easiest and most reliable security solutions for home and business. Reolink's mission is to make security a seamless experience for customers with its groundbreaking security products. Reolink products are available and sold worldwide, providing video surveillance and protection for millions of homes and families.
For more information about Reolink and its products, please visit https://reolink.com or visit the Reolink U.S. Amazon store: https://amzn.to/2y93Ukj.
Contact
Reolink Digital Technology Co. Ltd.
Elvia/PR manager
Email: pr@reolink.com
Address: RM.517, New City Center, 2 Lei Yue Mun Road, Kwun Tong, Kowloon, Hong Kong
Source: Reolink Digital Technology Co. Ltd.
Share: