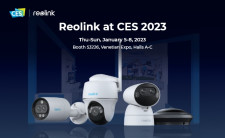 WILMINGTON, Del., January 6, 2023 (Newswire.com) - Reolink, an industry-leading smart home security solution provider, showcases new additions to its leading-edge dual-lens cameras including TrackMix LTE, Duo 2 LTE, Argus PT 4K and other security cameras at CES 2023 in Las Vegas.
Reolink welcomes all attendees to experience these innovative security products at Booth #53226, Hall A-C, Venetian Expo. Consumers can also visit Reolink's Booth online, download the digital brochure, and get the latest updates.
At CES 2023, Reolink brings multiple innovative products, including dual-lens Duo 2 series, TrackMix LTE 4G auto-zoom tracking camera, new 4K member of Argus series, fisheye cameras, and more. Take a quick look at what these new products have to offer.
Argus Series: Reolink highlights two ground-breaking members of Argus Series. Argus PT 4K, Reolink's first ever 4K battery-powered camera, offers 8MP ultra HD videos day and night. It's equipped with smart person/vehicle detection for accurate alerts. Argus Track WiFi camera features a slim design and two lenses for both a broad view and a zoomed-in image of moving objects. Easy to set up and install, Argus Track is built for families to protect properties and watch kids or pets.
Duo 2 Series: Reolink makes the first-ever launch of Duo 2 LTE, a 100% wire-free 4G dual-lens battery-powered security camera. It has two identical lenses to offer 180° seamless panorama in 6MP super HD with little distortion. This 4G dual-lens camera runs on a cellular network and supports most carriers in different regions, making it an ideal security option for places with limited access to power and WiFi network.
TrackMix Series: TrackMix LTE wire-free auto-zoom tracking security camera completes the 4G section of TrackMix series. This version still keeps one wide-angle lens for a broad overview and a telephoto lens for close-ups. It will automatically zoom in and track the moving person/car/pet dog, enabling users to focus on what matters most without manually enlarging the image.
New Lineup: Reolink introduces its new lineup of fisheye cameras. They are designed to offer 6MP super HD images and 360° panorama to cover every angle. These compact devices are perfect for indoor use in stores, offices, warehouses, etc.
Consumers can also see the 12MP cameras with Reolink's best technology: RLC-1212A and RLC-1224A. These two ultra HD cameras redefine security cameras' resolution and help users easily identify more details like human faces.
For more details about Reolink new products, visit Reolink's Booth or follow Reolink on social media to stay updated.
About Reolink
Reolink, a global innovator in the smart home field, is always dedicated to delivering reliable and user-friendly security solutions for homes and businesses. Reolink's mission is to make security accessible for everyone with solid security products. Reolink products are available worldwide, providing video surveillance and protection for millions of homes and families.
Contact
Reolink PR Team
Email: pr@reolink.com
Address: 251 Little Falls Drive, Wilmington, New Castle County, Delaware 19808
Source: Reolink
Share: