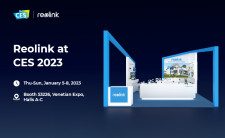 Reolink plans to introduce various new members of its innovative dual-lens and auto-tracking security camera series at CES 2023.
WILMINGTON, Del., January 3, 2023 (Newswire.com) - Reolink, a reliable security solutions provider trusted by numerous families, announces that it will attend CES 2023 in Las Vegas, January 5 -8, and bring a bunch of innovative dual-lens and auto-tracking security cameras.
All CES attendees are welcome to experience Reolink's newest smart home security products, try to schedule the AI detection, and check other nice-to-have features on Reolink Client/App at Booth #53226, Hall A-C, Venetian Expo.
This will be the fourth time Reolink has participated in CES, the most influential global tech event. This time, Reolink will continue to bring the new members of its battery-powered Argus series, dual-lens Duo 2 series, and auto-tracking TrackMix series.
"Dual-lens cameras are one of Reolink's greatest innovations in recent years," Reolink's Product Manager Sharon Kwok stated, "They give users a wider view of areas that can't be covered by a single camera. Our dual-lens cameras allow customers to utilize one camera and get the protection of two traditional cameras. We're also excited to see that these dual-lens products have been well received by our users."
From single-lens cameras to the current Duo 2 series and TrackMix series, Reolink has been upgrading its dual-lens technology to offer users another possible way to see as much as they can while focusing on what matters most at the same time.
Reolink dual-lens cameras have brought homeowners an added layer of security to their homes and properties. With one single dual-lens camera, customers can get the whole front yard covered and secured.
During the event, Reolink will also debut its new product line coming in 2023. For CES 2023, Reolink holds a "Guess the New Product" event on its official website. Consumers can guess what new products Reolink's going to showcase at CES. Participants who make successful guesses will be qualified to test a free Reolink trial product. Visit the event page to join!
For more updates about Reolink at CES 2023, stay tuned or follow the Reolink social media to know more. Or schedule a booth tour with Reolink representatives right now.
About Reolink
Reolink, a global innovator in the smart home field, is always dedicated to delivering reliable and user-friendly security solutions for homes and businesses. Reolink's mission is to make security a seamless customer experience with its solid security products. Reolink products are available and sold worldwide, providing video surveillance and protection for millions of homes and families.
Contact
Reolink PR Team
Email: pr@reolink.com
Address: 251 Little Falls Drive, Wilmington, New Castle County, Delaware 19808
Source: Reolink
Share: