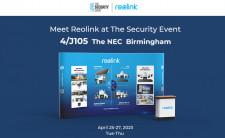 WILMINGTON, Del., April 24, 2023 (Newswire.com) - Reolink, a leading innovator in home security solutions, is proud to announce its participation in The Security Event (TSE), the U.K.'s leading security conference for both enterprise and domestic security. This year the event will be held at the National Exhibition Centre in Birmingham from April 25-27.
It marks Reolink's first exhibition in the U.K., where it will showcase its latest range of innovative security cameras. Attendees can visit Reolink's stand # 4/J105 and try its 24/7 recording battery/solar camera, explore the dual-lens technology, and talk to Reolink's experts.
24/7 Recording 4G Battery Camera with Super Solar Panel
Among the products that will be showcased, Reolink will highlight its TrackMix LTE Plus, a recently released 4G battery/solar camera that can record 24/7 with a big solar panel.
This battery/solar-powered dual-lens camera offers day & night monitoring in any environment - even without a power source or WiFi connection. It has a built-in heater to keep charging the battery when temperatures drop to 3℃.
Reolink TrackMix LTE Plus also features dual lenses for a 360° field of view, clear images, auto-tracking capabilities, and more.
Dual-Lens Technology Enables Panoramic View with One Single Camera
Reolink dual-lens security cameras boast two independent sensors that can capture high-quality footage with an incredible field of view. The dual-lens technology enables homeowners to monitor their premises with a single camera.
Reolink's dual-lens camera series includes the TrackMix and Duo 2 models, both of which are highly popular and widely used. Reolink TrackMix series features one wide-angle lens for a full view and one telephoto lens for close-up images, ensuring that every detail is captured and nothing is missed.
Reolink Duo 2 series is equipped with two identical lenses that provide a seamless 180-degree panorama view with little distortion. Moreover, these dual-lens cameras come with person/vehicle detection and two-way audio, enabling homeowners to receive instant alerts and respond quickly to any event.
12MP Ultra-High Resolution: Redefined Clarity
Reolink 12MP security cameras bring home security to a higher level. They can capture crystal-clear footage of any event along with fine details day and night. Moreover, they come with intelligent motion detection, email alerts, and customized recording schedules that allow users to monitor their properties with ease.
For more updates about Reolink at TSE 2023, stay tuned or follow Reolink's social media to know more.
About Reolink
Reolink, a global innovator in the smart home field, is dedicated to delivering convenient and reliable security solutions for homes and businesses. Reolink aims to deliver a seamless security experience for customers with its comprehensive product lineup.
Contact
Reolink PR Team
Email: pr@reolink.com
Address: 251 Little Falls Drive, Wilmington, New Castle County, Delaware 19808
About TSE
The Security Event (TSE) is the U..K's premier security exhibition, which brings together leading security experts, manufacturers, and distributors to showcase the latest security technologies and solutions.
Source: Reolink
Share: