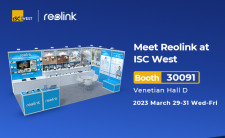 WILMINGTON, Del., March 28, 2023 (Newswire.com) - Reolink, a leading security solutions provider, announces its participation at ISC West 2023. The security trade event will be held in Las Vegas, Nevada, during March 29-31 and will be a perfect place for Reolink to showcase its latest dual-lens battery camera along with other cutting-edge products.
ISC West attendees visiting Reolink Booth #30091 will get a closer look at Reolink's latest dual-lens security cameras, 16X optical zoom cameras, 12MP ultra-high resolution cameras, and more.
At ISC West 2023, Reolink will make the first-ever public launch of its latest battery PTZ dual-lens camera: Reolink TrackMix LTE Plus. It has a huge solar panel and an extra large battery that saves electricity, enabling the camera to work 24/7 non-stop. Furthermore, there is a built-in heater to warm up the battery and keep it charging the camera when the temperature drops to 3℃.
TrackMix PoE & TrackMix LTE are two versions of the Reolink TrackMix series and both of them have one wide-angle lens for a full view and one telephoto lens for close-up images. Users can check both views simultaneously on one screen. Also, they can pan and tilt to cover every corner and track moving objects automatically.
Reolink Duo 2 PoE and Duo 2 WiFi feature 4K 8MP ultra HD and offer vivid color as well as fine details. They have two identical lenses for a 180° seamless panorama without overlapping parts. With advanced person/vehicle detection and two-way audio, homeowners can get instant alerts on their mobile devices and respond to the coming person immediately.
Reolink RLC-823A 16X, a 4K PoE security camera with 16X optical zoom, provides users with detailed footage from far away distances. Also, RLC-823A 16X can monitor a large area with a 360° pan & 90° tilt. It can track a moving person or vehicle automatically and never miss anything important.
Reolink also introduces its fisheye cameras: FE-P (PoE version) and FE-W (WiFi version). They are designed to offer 6MP crystal-clear images and a 360° panorama view. With de-warping technology, users can view flattened images from the fisheye camera.
For more details about Reolink's new products, visit Reolink's Booth or follow Reolink on social media to stay updated.
About Reolink
Reolink, a global innovator in the smart home field, is dedicated to delivering reliable and user-friendly security solutions for homes and businesses. Reolink's mission is to make security accessible for everyone with solid security products. Reolink products are available worldwide, providing video surveillance and protection for millions of families.
About ISC West
ISC West is the leading security trade event in the U.S. Offering the combination of products, educational programming, and networking opportunities all in one place makes ISC West the premier destination to showcase innovation and discover what's new and next in the industry.
Contact
Reolink PR Team
Email: pr@reolink.com
Address: 251 Little Falls Drive, Wilmington, New Castle County, Delaware 19808
Source: Reolink
Share: