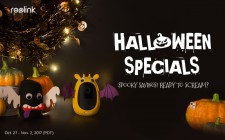 Hong Kong, China, October 27, 2017 (Newswire.com) - Reolink, an innovative home security solution provider, today unveiled its Halloween sales available during Oct. 27 — Nov. 2, 2017 PDT. Customers can buy top-rated home security solutions on Reolink online store with up to $180 off and FREE shipping.
Check Reolink Halloween Sales details here: https://reolink.com/holiday-promotions/.
Besides offering the best prices on almost all of the best-selling products, Reolink also launches excellent Holiday Season activities so that customers can win extra coupons (up to 20% OFF) for purchasing on Reolink official store.
Pam Cheung, the marketing manager of Reolink, said, "During the Halloween, our guests are looking for the best deals. They also want incredible security products and a great experience. Reolink is ready to deliver all of that and more through compelling savings!"
What's Hot for Reolink Halloween Sales in 2017
Reolink Argus — world's first weatherproof wire-free security camera, offers customers the most flexible home security solution. Buy now at 10% off.
Reolink C1 Pro — 4MP Super HD dual band wireless indoor security camera, provides consumers a versatile home smart camera. Buy now at 11% off.
RLC-410 — Reolink hottest PoE IP security camera, can be installed outdoors/indoors, anywhere you like. Buy now at 20% off.
RLK8-410B4 — 1440p 8-channel PoE security camera system, offers customers 24/7 monitoring and protection with/without network. Buy now at 16% off.
Besides the annual Halloween promotions, Reolink also launches Holiday Season activities (ends on Dec. 24, 2017 PDT) so that customers can get coupons simply by sharing videos/images captured by Reolink products.
Reolink Holiday Season Activities
Reolink launches 2 Holiday Season activities so that customers can share their memorable Reolink captured stories with Reolink.
1. #ReolinkCaptures Program
Customers can get up to 20% off coupons by sharing their magic Reolink captured videos on Reolink social media platforms and Reolink forum.
2. #ReolinkPhotos Show
Customers can win 20% off coupons or a FREE Reolink Argus via sharing the stunning photos of Reolink products on Facebook.
About Reolink
Reolink, a leading provider of home security products and camera solutions, has been dedicated to delivering advanced and high-quality consumer security cameras/systems and reliable solutions for home and business. The products range from PoE security cameras/systems, wireless security cameras/systems, to wire-free battery-powered security cameras, which are widely used in home surveillance, business surveillance, baby monitoring, etc. Reolink products are available and sold worldwide, providing video surveillance and protection for millions of homes and families.
For more information about Reolink and its products, please visit https://reolink.com.
Contact
Elvia/PR manager
Email: pr@reolink.com
Tel: +1 2134012832
Address: B5-2, 29/F, Legend Tower, 7 Shing Yip Street, Kwun Tong, Kowloon, Hong Kong
Reolink Digital Technology Co., Ltd.
Source: Reolink Digital Technology Co., Ltd.
Share: