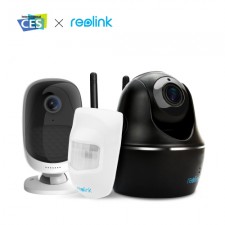 Hong Kong, China, January 4, 2017 (Newswire.com) - Reolink, a global innovator in home security and camera solutions, is headed to the upcoming CES 2017, and will showcase its innovated and cutting-edge home security cameras and systems on January 5–8 in Las Vegas, NV.
Visitors are encouraged to meet Reolink at CES 2017 at Booth #40167 in Sands, Halls A-D in Smart Home Marketplace, to see the full lineup of innovated Reolink (registered by Shenzhen Reo-link Digital Technology Co, Ltd.) home security products. Reolink is looking for partners worldwide, and would love to exchange ideas with all CES visitors. Please refer to the exhibitor details for the exact booth location and info of Reolink: http://ces17.mapyourshow.com/7_0/exhibitor/exhibitor-details.cfm?ExhID=T0003067.
CES (Consumer Electronics Show) is one of the biggest global consumer electronics and consumer technology tradeshows. More than 165,000 people (consumer technology innovators) plan to gather in Las Vegas this year to get some serious business done. And as an innovator in home cameras, Reolink will be there, too.
With 4 product lines unfolded and refreshed, namely: wire-free security cameras, indoor smart home cameras, PoE&WiFi cameras & NVRs, and security camera systems, Reolink is about to roll out the new and improved home security products to dealers and trade press during the Consumer Electronics Show 2017. Here are some highlights:
C1 Smart – A 1080p indoor smart home pan-tilt camera. With up to 180 days stand-by time, and 100% wire-free, Reolink C1 Smart makes it simple for homeowners to place and move within any indoor environment. The external PIR Sensor helps to accurately trigger alarms by automatically detecting human motions. Other excellent features include 355 pan and 105 tilt, 2-way audio, SD card slot for inserting external Micro SD card and more.
ArgusCam– A battery-powered wireless smart home cube camera. Reolink ArgusCam features up to 180 days long stand-by time, and guarantees no-hassle peace of mind. It is 100% wire-free and has built-in PIR sensor for smarter and more accurate peace of mind. Two-way audio and waterproof IP65 are enabled, and also works great with WiFi NVR for 24/7 recording.
RLK16-410B8– A 1440p PoE security camera system. It captures 4MP super HD videos/images. A 16-channel PoE NVR with 3TB hard disk drive preinstalled offers no-hassle 24/7 reliable video recording. A complete DIY security system!
RLK4-210WB4 – A 1080p WiFi security camera system. Sees 2MP Full HD videos and images, and allows 24/7 continuous recording via a 4-channel WiFi NVR with preinstalled 1TB HDD. Completely plug and play!
ADK8-20B4 – Reolink's first all-in-one 1080p video smart alarm system, including a 8-channel HD-TVI/AHD DVR with built-in 2TB HDD for video recording, HD-TVI cameras, Window/Door Sensors to protect every entrance points, PIR Movement Sensors to trigger more accurate alarms, and Key Fob remote control.
Go to Reolink official website to view the complete list of security cameras (systems) for CES 2017. And Reolink will also push out breaking news and CES pics on its Twitter and Facebook account, for real-time coverage.
About Reolink
Reolink has spent years creating the leading-edge products with great features, which are distinguished from other security products in the market. Over the years, Reolink has made great progress in PoE/WiFi IP cameras, NVR kits, baby monitors, etc., providing the perfect security solution to make home a more secure and cozy place. Its products are sold in numerous countries and popular in the US, Canada, UK, Germany and more.
For more information about Reolink and its products, please visit https://reolink.com.
Media Contact
Amanda Li/PR manager
Email: pr@reolink.com
Reolink Digital Technology Co.,Ltd.
Source: Reolink Digital Technology Co.,Ltd.
Share: