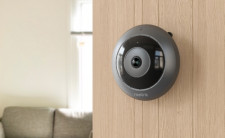 WILMINGTON, Del., May 31, 2023 (Newswire.com) - Reolink, a renowned home security products provider, is releasing its first-ever fisheye cameras: the FE series. The fisheye cameras can present a 360° panoramic view in 6MP super HD resolution, allowing users to check almost all corners of the monitored area with just one look.
Two Fisheye camera versions are offered: the Reolink FE-W camera and the Reolink FE-P camera. Both versions are available on Reolink's official online store.
Reolink Product Family Welcomes a Brand-New Product Line: FE Series
The FE series, as a new addition to Reolink's wide viewing angle product line, provides a 360° view by capturing footage from different angles and stitching them into one single image. For various needs of monitoring and viewing, multiple display modes are offered.
Some owners may worry that events captured by fisheye cameras will be distorted. Reassuringly, the Reolink FE series has adopted cutting-edge technology to flatten the image on all display modes.
These newly-launched fisheye cameras can cover all corners of stores, offices, conference rooms, or warehouses, making them perfect for indoor use. Compared with fixed-lens security cameras, the series covers larger areas and frees users from multiple installations. For those looking for a solid, convenient security solution for indoor wide areas, this camera is an ideal option.
More Nice-to-Have Features That Deserve to Be Known
As the HD security camera, the Reolink FE series surpasses traditional 5MP fisheye cameras that are the majority in the market and presents crystal-clear 6MP super HD images/videos of a 1:1 aspect ratio and a 25fps frame rate on the screen. More vivid details can be revealed, creating a superb visual experience for all Reolink product lovers.
Correspondingly, fewer false alarms can be made possible since high-definition images will reveal genuine details. When intruders enter the detecting area, the camera detects moving humans and sends alert emails & push notifications. The facial and body features of those unwelcome visitors can be efficiently checked on the screen.
Other important features
PoE or a plug-in for the power supply
Infrared night vision with built-in spotlights and siren
2.4/5 GHz WiFi connection (FE-W)
Flexible Installation on the wall, ceiling, and flat surface
Smart home integration to Google Assistant
Two-way audio
Flexible footage storage options on the SD card (up to 256 GB) & Reolink NVRs & FTP server
Remote access via the intuitive Reolink App & desktop software
For more information about Reolink 360° Panoramic Indoor Fisheye Cameras, visit Reolink security camera online store.
About Reolink
Reolink, a global innovator in the smart home field, is always dedicated to delivering reliable and user-friendly security solutions for homes and businesses. Reolink's mission is to make security a seamless customer experience with its solid security products. Reolink products are available and sold worldwide, providing video surveillance and protection for millions of homes and families.
Contact
Reolink PR Team
Email: pr@reolink.com
Address: 251 Little Falls Drive, Wilmington, New Castle County, Delaware 19808
Source: Reolink
Share: