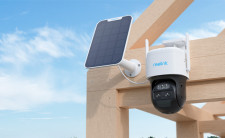 The battery WiFi TrackMix has two lenses to offer both overviews and closeups
WILMINGTON, Del., December 15, 2022 (Newswire.com) - Reolink, the global smart home security solution provider, announces the latest addition to its dual-lens TrackMix series. The WiFi battery-powered version Reolink TrackMix with 2K super HD and auto-zoom tracking is available for pre-order in the U.S. at $279.99 and in Europe at €299.99.
The Wire-Free Dual-Lens TrackMix Boasts Auto-Zoom Tracking
As a new member of Reolink's cutting-edge TrackMix series, Reolink TrackMix features dual lens as well: one wide-angle lens for a broad overview and one telephoto lens for a clear closeup with more details.
Auto-Zoom Tracking plus dual lens makes Reolink TrackMix extraordinary. While this camera can pan 355° and tilt 90° to cover a super large area, it tracks the moving person/vehicle/pet dog automatically. In addition, the telephoto lens will zoom in and keep the target always in the frame.
When someone is loitering at the door, the wide-angle lens will show the whole view of the door while the telephoto lens gives a zoomed-in view of the moving person. Check them simultaneously on one screen without losing any details.
Reolink TrackMix is also an eco-friendly solution as it can be powered by a rechargeable battery and solar panel. Users don't have to take the camera down for frequent charges because the solar panel serves as a non-stop power supply and helps the camera work for a long time.
Meanwhile, it supports 5GHz (5.8GHz) and 2.4GHz dual-band WiFi. Connect this WiFi camera to the strongest network available for the best performance.
Since Reolink TrackMix is 100% wire-free, this dual-lens security camera can be installed with minimum effort, providing it is within the WiFi coverage area.
Other Nice-to-Have Features
360° all-round view with pan & tilt function
Crisp clear image quality of 2K 4MP super HD
Smart person/vehicle/pet detection and auto-zoom tracking
Two-way audio for remote communication anywhere
Two night vision modes: black & white or full-color with a spotlight
Live streams at any time and instant alert when motion is detected
Time-lapse function that records the dynamic process of incredible moments
Smart home integration: working with Google Assistant
For more details about Reolink TrackMix and its other versions, visit Reolink's official site.
About Reolink
Reolink, a global innovator in the smart home field, is always dedicated to delivering reliable and user-friendly security solutions for homes and businesses. Reolink's mission is to make security a seamless customer experience with its solid security products. Reolink products are available and sold worldwide, providing video surveillance and protection for millions of homes and families.
Contact
Reolink PR Team
Email: pr@reolink.com
Address: 251 Little Falls Drive, Wilmington, New Castle County, Delaware 19808
Source: Reolink
Share: