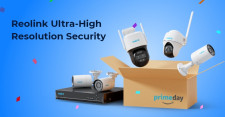 WILMINGTON, Del., July 11, 2023 (Newswire.com) - Reolink, a renowned pioneer in the field of home security solutions, has solidified its position as a forerunner in high-pixel security cameras with 4K and even 12MP security lineups. It has integrated pixel technology into its extensive product line, encompassing the battery series, PoE/WiFi series, and security systems. Even the slightest details will not escape detection.
Reolink's High-Pixel Cameras Set New Standards in Visual Clarity for Surveillance Technology
Reolink's high-pixel cameras are set to redefine the standards of visual clarity in surveillance technology. These cameras boast exceptional 4K or even 12MP resolution, enabling users to capture tiny details with unparalleled precision.
Accessing sharp imagery is now effortless with Reolink's enhancements. The encoding format has been upgraded from H.264 to the more advanced H.265, enabling efficient storage and transmission of high-quality footage.
Additionally, Reolink incorporates cutting-edge technologies such as IEEE 802.3af power-over-Ethernet technology, the next-generation Wi-Fi 6 standard, and dual-band Wi-Fi, guaranteeing seamless network connectivity during remote live view in clear mode.
Juicy Deals: Up to 50% Off on Reolink High-Definition Security Cameras and Systems
From June 11 to 12, Reolink will be offering incredible deals at Amazon Prime Day Sale. Don't miss out on these exciting deals and take a closer look at some of the best high-definition security cameras and systems available.
RLC-1212A - Intelligent 12MP PoE Camera with Powerful Spotlight (Save up to $22)
With F1.6 large aperture lens, the camera in 12MP ultra high resolution captures intricate details from facial features to license plates, leaving nothing unnoticed.
TrackMix WiFi - 4K Dual-Lens PTZ Camera with Motion Tracking (30% Off)
Go beyond Full HD and experience never-before-seen details with this 4K camera. And the dual-lens camera can offer both a full view and a close-up image simultaneously.
Go PT Ultra - 4K Wire-Free 4G LTE PT Camera with Color Night Vision (25% Off)
With a high resolution of 4K UHD (3840x2160), the camera offers razor-sharp images and videos with more precise details than ever before. Go PT Ultra supports 3G/4G LTE mobile network and is battery/solar powered, a top choice for indoor and outdoor use.
RLK8-1200B4-A - Smart 4K Security Kit with Person/Vehicle Detection (Save up to $310)
The system of four hi-def cameras can get more areas covered and capture even the finest nuances in stunning detail. presenting crucial details clearly, like faces, logos, and plate numbers.
For more information about these products and the upcoming deals, please visit Reolink Amazon Store.
About Reolink
Reolink, a global innovator in the smart home field, is always dedicated to delivering reliable and user-friendly security solutions for homes and businesses. Reolink's mission is to make security a seamless customer experience with its solid security products. Reolink products are available and sold worldwide, providing video surveillance and protection for millions of homes and families.
Contact
Reolink PR Team
Email: pr@reolink.com
Address: 251 Little Falls Drive, Wilmington, New Castle County, Delaware 19808
Source: Reolink
Share: