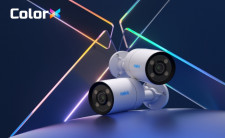 WILMINGTON, Del., June 9, 2023 (Newswire.com) - Smart security solution provider Reolink is thrilled to announce the release of its advanced ColorX series with true color night vision camera CX410. Fueled by F1.0 large aperture, 1/1.8'' super sensor, and powerful ISP technology, the ColorX camera captures the finest details in true color even with the dimmest light.
Pre-orders for this camera are now available with a 10%-off discount in the U.S. and some European countries. Customers eyeing a security solution for dark corners can preorder CX410 now at Reolink's official website store.
ColorX Technology Explained: Key Parts That Make True Color Night Vision
Empowered by Reolink's new ColorX technology, the Reolink CX410 camera captures nighttime images in true color. Thanks to the built-in F1.0 aperture, 1/1.8'' sensor, and ISP technology, true color night vision on the Reolink CX410 camera is made possible even in total darkness.
Compared to cameras with an F2.0 aperture, the F1.0 large aperture helps the CX410 camera capture four times the amount of light. This ensures the camera sees everything clearly in dark corners.
In addition, the CX410 camera comes with an advanced 1/1.8'' sensor and automatic ISP technology, enabling a 115% sensing area versus that of a 1/3'' sensor and more vivid color in nighttime images.
The three key parts above combined make Reolink's new ColorX technology, allowing Reolink users to know what's happening outside their properties even without extra lights.
ColorX Camera Is Less Noticeable: Ideal for Dark Areas & Overlapped Security Setup
Featuring ColorX tech and a dimmable 3000K warm light, the Reolink CX410 camera is a less noticeable security option for front yards, porches, and other dark corners around various properties.
This makes the Reolink CX410 camera a nice addition to home and small business owners' existing security setup. Users may add the ColorX camera to build up their own overlapped security setup and enhance home and property security.
Reolink ColorX 410 camera feature list:
● 2K/4MP quad high-definition clarity
● ColorX true color night vision
● 3000K neighbor-friendly warm light
● Smart person/vehicle/animal detection
● Light and siren deterrence
● Two-way audio talk
● Local storage on micro SD cards or NVRs
● IP66 waterproof design
For more information about Reolink ColorX true color night vision technology and camera, visit Reolink's official website store.
About Reolink
Reolink, a global innovator in the smart home field, is dedicated to delivering convenient and reliable security solutions for homes and businesses. Reolink aims to deliver a seamless security experience for customers with its comprehensive product lineup.
Source: Reolink
Share: